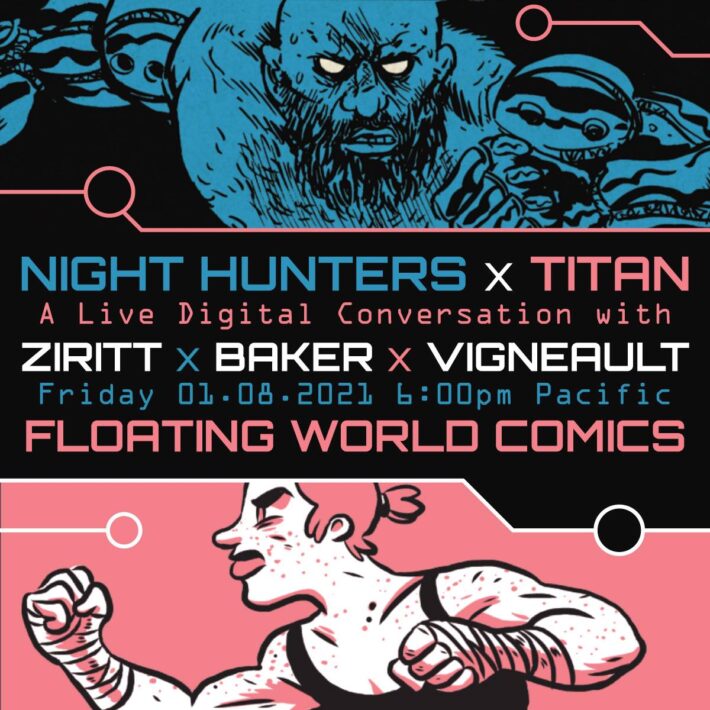 [EN] Night Hunters/Titan digital conversation with Alexis Ziritt, Dave Baker & François Vigneault
8 janvier 2021 18:00 - 19:00
Night Hunters and Titan are two new comics depicting the bloody struggles of humanity's future, on Earth and beyond in our solar system.
Join us on Friday, January 8 at 6pm for a livestreamed conversation and book release party with the creators, Alexis Ziritt, Dave Baker and François Vigneault.
Order a copy of Titan before the event and receive a signed, illustrated bookplate by François Vigneault! Night Hunters is cyber punk comic book about life on the streets of Venezuela's dystopian police state 100 years in the future. On the moon of Titan, a massive mining colony is plagued by tensions between the giant, genetically-engineered Titan workers and the Terran management. As anger mounts, Homestead must be pulled back from the brink of disaster... Or Titan might be the spark that sets the entire solar system ablaze.
WHO: Alexis Ziritt, Dave Baker, François Vigneault
WHAT: Livestream book release party
WHEN: Friday Jan. 8, 6-7pm PST
WHERE: twitch.tv/floatingworldcomics "(TITAN IS) A GRIPPING, KNOTTY, EPIC TALE of exploration and solidarity, and a stern reminder that rights are never given, only taken." –Cory Doctorow (Radicalized) "NIGHT HUNTERS is a neo-world cyclone of claustrophobic cyberpunk intensity." –DoomRocket
http://www.aziritt.com/
http://www.heydavebaker.com/
https://francois-vigneault.com/