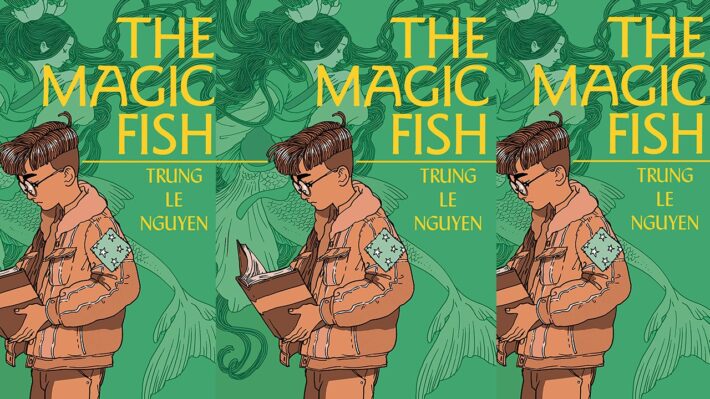 [EN] Graphic Novel Book Club: The Magic Fish
VIRTUAL BOOKCLUB - VIA ZOOM
Meeting ID: 880 1969 6256
Passcode: 694857
Join our Graphic Novel Book Club as we meet online every month to discuss contemporary Graphic Novels!
At our next meeting, Tuesday, April 13th, at 8 PM ET, we'll discuss The Magic Fish by Trung Le Nguyen.
Where and How Can I purchase the book?
Find the book here: https://bit.ly/30qQyeD
More info on our webstore here:
http://mtl.drawnandquarterly.com/posts/webstore-faq
We Ship Canada-wide!
By purchasing your book at Librairie Drawn & Quarterly you help support events like this one, independent publishing and retailing, our neighborhood, and authors both local and from around the world who depend on independent bookstores for their livelihood. Your support is appreciated.
///////////////////////////////////////////
THE MAGIC FISH
Tiến loves his family and his friends…but Tiến has a secret he's been keeping from them, and it might change everything. An amazing YA graphic novel that deals with the complexity of family and how stories can bring us together. Real life isn't a fairytale. But Tiến still enjoys reading his favorite stories with his parents from the books he borrows from the local library. It's hard enough trying to communicate with your parents as a kid, but for Tiến, he doesn't even have the right words because his parents are struggling with their English. Is there a Vietnamese word for what he's going through? Is there a way to tell them he's gay? A beautifully illustrated story by Trung Le Nguyen that follows a young boy as he tries to navigate life through fairytales, an instant classic that shows us how we are all connected. The Magic Fish tackles tough subjects in a way that accessible with readers of all ages, and teaches us that no matter what—we can all have our own happy endings.
///////////////////////////////////////////
TRUNG LE NGUYEN, also known as Trungles, is a comic book artist and illustrator working out of Minnesota. He received his BA from Hamline University in 2012, majoring in Studio Art with a concentration in oil painting and minoring in Art History. He has contributed work for Oni Press, BOOM! Studios, Limerence Press, and Image Comics. He is particularly fond of fairy tales, kids' cartoons, and rom-coms of all stripes. The Magic Fish is his debut graphic novel.
/////////////////////////////////////////
Librairie Drawn & Quarterly recognizes that our bookstores are located on the unceded territory of the Kanien'kehá:ka. Many of us refer to Montreal as our home, but it is named Tiohtiá:ke. This has always been a gathering place for many First Nations and continues to be home to a diverse population of Indigenous peoples. It is important to think about how each and every one of us has arrived here. We are grateful that creating and sharing stories has been a part of this land for thousands of years and we urge you to seek out a story that is different from your own.
/////////////////////////////////////////
Please email events@drawnandquarterly.com if you have any questions!