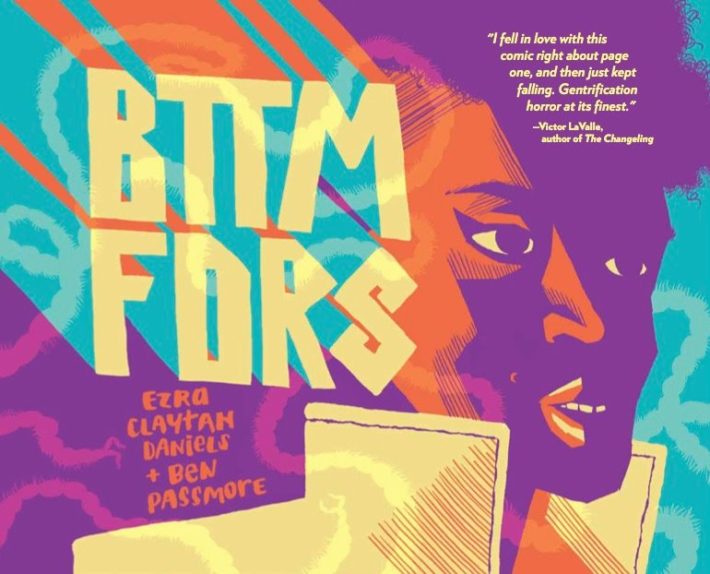 Graphic Novel Book Club: BTTM FDRS
13 février 2020 19:00 - 21:00
Librairie Drawn & Quarterly
211 Rue Bernard O, Montréal, QC H2T 2K5
Each month we host a Graphic Novel Book Club, open to all, during which we hang out and informally discuss a featured graphic novel. Our pick for February is BTTM FDRS by Ben Passmore and Ezra Claytan Daniels.
This Afrofuturist graphic novel explores gentrification and cultural appropriation with a blend of humor and horror.
We will meet at La Petite Librairie Drawn & Quarterly (176 Rue Bernard Ouest) on Thursday, February 13th at 7 p.m. Join us for refreshments and collective insights!
ABOUT:
Once a thriving working class neighborhood on Chicago's south side, the "Bottomyards" is now the definition of urban blight. When an aspiring fashion designer named Darla and her image-obsessed friend, Cynthia, descend upon the neighborhood in search of cheap rent, they soon discover something far more seductive and sinister lurking behind the walls of their new home. Like a cross between Jordan Peele's Get Out and John Carpenter's The Thing, Daniels and Passmore's BTTM FDRS (pronounced "bottomfeeders") offers a vision of horror that is gross and gory in all the right ways. At turns funny, scary, and thought provoking, it unflinchingly confronts the monsters—both metaphoric and real—that are displacing cultures in urban neighborhoods today.
Gentrification and body horror collide in this brutal satire from the award-winning creators of Upgrade Soul and Your Black Friend and other Strangers.
***We are offering a 20% discount on BTTM FDRS from now until the meeting date!***
By purchasing your book at Librairie Drawn & Quarterly you help support free events like this one, independent publishing and retailing, our neighborhood, and authors both local and from around the world who depend on independent bookstores for their livelihood. You also get to take advantage of a great discount! Your support is appreciated.