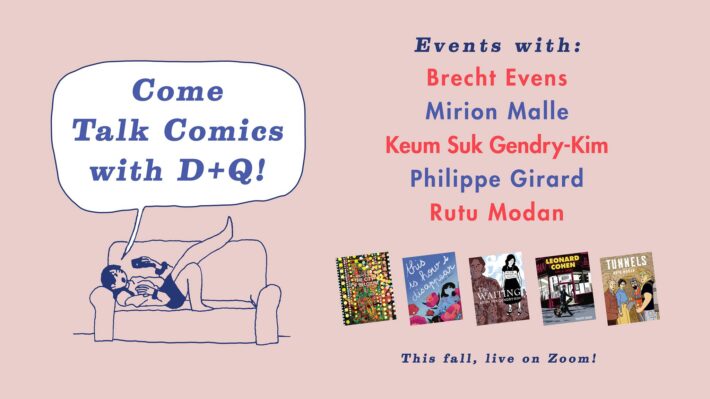 [EN] D+Q Live: Rutu Modan
Come talk comics with D+Q! Join us for 5 weeks of virtual events with your favourite authors! Brecht Evens, Keum Suk Gendry-Kim, Philippe Girard, Mirion Malle, and Rutu Modan present their new books in these exclusive events...RSVP via the links below!
Brecht Evens discusses THE CITY OF BELGIUM with D+Q's Tom Devlin
Thursday Oct 21, 1 pm
https://bit.ly/3iYxaPT
Mirion Malle discusses THIS IS HOW I DISAPPEAR with Sophie Yanow (THE CONTRADICTIONS)
Friday Oct 29, 8 pm
https://bit.ly/3mMjfNW
Keum Suk Gendry-Kim discusses THE WAITING with Alexander Chee (HOW TO WRITE AN AUTOBIOGRAPHICAL NOVEL)
Tuesday Nov 2, 8 pm
https://bit.ly/3lAnKvR
Philippe Girard discusses LEONARD COHEN: ON A WIRE with Joe Ollmann (FICTIONAL FATHER)
Tuesday Nov 9, 8 pm
https://bit.ly/3auB3Hx
Rutu Modan discusses TUNNELS with Jason Lutes (BERLIN)
Thursday Nov 18, 1 pm
https://bit.ly/3FQPHHQ
Limited edition signed bookplates are available from our partner bookstores! Place your orders now via Floating World Comics, Quimby's Bookstore, or Skylight Books in the USA, and via Librairie D+Q or The Beguiling Books and Art in Canada.
D+Q acknowledges the support of LTI Korea for the event with Keum Suk Gendry-Kim, and the support of the French Embassy in Canada for the events with Mirion Malle and Philippe Girard.