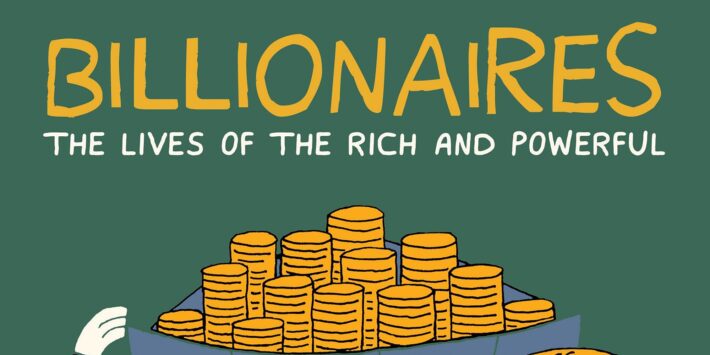 [EN] Darryl Cunningham discusses his book, « Billionaires » with Sarah Glidden
Cartoonist Darryl Cunningham discusses his book, "Billionaires," with Sarah Glidden
In Billionaires (Drawn and Quarterly) , cartoonist Darryl Cunningham offers an illuminating analysis of the origins and ideological evolutions of four key players in the American private sector—Amazon founder and CEO Jeff Bezos, media mogul Rupert Murdoch, and oil and gas tycoons Charles and David Koch. What emerges is a vital critique of American capitalism and the power these individuals have to assert a corrupting influence on policy-making, political campaigns, and society writ large.
Cunningham focuses on a central question: Can the world afford to have a tiny global elite squander resources and hold unprecedented political influence over the rest of us? The answer is detailed through hearty research, common sense reasoning, and astute comedic timing.
Darryl Cunningham is the cartoonist of five non-fiction books, including Supercrash: How to Hijack the Global Economy, and Billionaires. His comics explore subjects as diverse as mental health, science, economics, and politics. In 2015 he was one of 30 world-renowned photographers, painters, sculptors, writers, filmmakers and musicians who were invited to contribute to the Bill & Melinda Gates Foundation's Art of Saving a Life project, to promote vaccination in the developing world.
Sarah Glidden is a cartoonist and illustrator working primarily in non-fiction and reportage comics. She is the author of Rolling Blackouts, which was also published by Drawn and Quarterly.