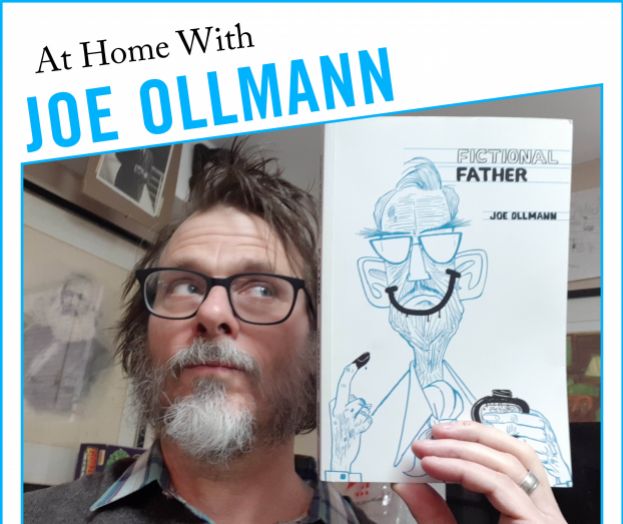 [EN] At Home with Joe Ollmann
At Home with D+Q features Joe Ollmann, author of Fictional Father, in stores May 18th.
Joe will take over our Instagram at 1pm Eastern on May 18th. He'll go live, answer your questions, and chat about his artistic process all in celebration of the new release! Don't miss this opportunity to connect with the artist Publishers Weekly says has been "a well-kept secret of comics for too long."
Pre-order your copy of Fictional Father here: https://bit.ly/2QM4aj5
More info on our webstore here: http://mtl.drawnandquarterly.com/posts/webstore-faq
By purchasing your book at Librairie Drawn & Quarterly you help support events like this one, independent publishing and retailing, our neighborhood, and authors both local and from around the world who depend on independent bookstores for their livelihood. Your support is appreciated.
///////////////////////////////////////////
FICTIONAL FATHER
Caleb is a middle-aged painter with a non-starter career and a checkered past. He also happens to be the only child of one of the world's most famous cartoonists, Jimmi Wyatt. Known for the internationally beloved father and son comic Sonny Side Up, Jimmi made millions drawing saccharine family stories while neglecting his own son. Now sober, Caleb is haunted by his wasted past and struggling to take responsibility for his present before it's too late. His always patient boyfriend, James, is reaching the end of his rope. When Caleb gets the chance to step out from his father's shadow and shape the most public aspect of the family business, he makes every bad decision and watches his life fall apart. Is it too late to repair the harm? Are we forever doomed to make the same mistakes our parents did? JOE OLLMANN lives in Hamilton, the Riviera of Southern Ontario. He is the winner of the Doug Wright Award for Best Book in 2007 and loser of the same award another time.
/////////////////////////////////////////
Librairie Drawn & Quarterly recognizes that our bookstores are located on the unceded territory of the Kanien'kehá:ka. Many of us refer to Montreal as our home, but it is named Tiohtiá:ke. This has always been a gathering place for many First Nations and continues to be home to a diverse population of Indigenous peoples. It is important to think about how each and every one of us has arrived here. We are grateful that creating and sharing stories has been a part of this land for thousands of years and we urge you to seek out a story that is different from your own.
/////////////////////////////////////////
Please email events@drawnandquarterly.com if you have any questions!