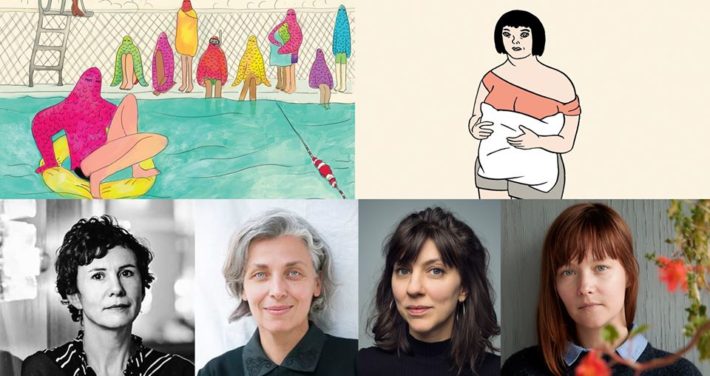 [EN] Anna Sommer and Catherine Ocelot Conundrum double launch
Librairie Drawn & Quarterly
211 Rue Bernard O, Montréal, QC H2T 2K5
Join Librairie Drawn & Quarterly and Conundrum Press as we celebrate the release of The Unknown by Anna Sommer, and Art Life by Catherine Ocelot. Featuring presentations by Sommer and Ocelot, alongside translators Helge Dascher and Aleshia Jensen.
THE UNKNOWN
A story of deceit, self-deception, and the search for happiness
When Helen finds a newborn abandoned in a changing room in her boutique, she decides to keep the baby nestled in a cardboard box and hidden from her husband.
After Vicky is talked into sex work by her boarding school roommate, Wanda, all of Vicky's secrets–including her affair with their history teacher and her pregnancy–are quickly uncovered.
As the two narratives converge, coincidences and secrets are revealed. Incisive, wicked and breezily unconcerned by taboos, Anna Sommer lets readers put together the pieces of her morally ambiguous fable.
The Unknown is the English language translation of Sommer's L'Inconnu, a French language edition published by Les Cahiers Dessinés. In 2018, L'Inconnu was nominated for a prize at the prestigious Angoulême International Comics Festival.
ART LIFE
Winner of the Prix Bédélys (Best comic in Quebec)
Shortlisted for the Quebec booksellers award 2018 in the graphic novel category (Prix des libraires)
Catherine Ocelot wonders about her place as an artist, digging into the layers of what it means to live this Art Life. In her search for answers, she talks with seven artists from different disciplines who express their doubts, their struggles, their ambitions and their sometimes-wise and sometimes-funny observations. The author stages these encounters with finesse and wit, and echoes them with scenes from her own life. Art Life is a tragicomic tale tinged with fantasy that explores the impact of others on oneself, led by an artist who slowly comes to understand herself.
//////////////////////////////////
CATHERINE OCELOT is a Montreal-based cartoonist originally from Quebec City. Beginning her career at the CBC as a designer and art director, she has collaborated on a variety of television, publishing and, occasionally, performance projects. Her work explores communication: our ways of speaking to one another, and the influence people have on each other. She brings to light the wondrous and sad moments that are woven into the fabric of relationships, with a playful melancholic humour. Art Life is her third book and first in English.
ANNA SOMMER was born in Staffelbach in 1968. She lives in Zurich and works as a freelance comics artist and illustrator for, among other publications, NZZ Folio, Die Zeit, Libération and Strapazin. In 2006 she was awarded a year-long grant to draw comics by the city of Zurich.
ALESHIA JENSEN is a Montreal-based translator and former bookseller. She has translated two Quebec novels and several graphic novels, including two titles by Max de Radiguès and a co-translation with Helge Dascher of This Woman's Work by Julie Delporte.
HELGE DASCHER has for 25 years translated texts with a dynamic relationship to images. A background in art history and literature has grounded her translation of over sixty graphic novels, many by artists who have broadened the medium's storytelling range. Her translations included acclaimed titles such as Julie Delporte's This Woman's Work (co-translated with Aleshia Jensen, Drawn and Quarterly, 2019), Guy Delisle's Hostage (Drawn and Quarterly, 2017) and Michel Rabagliati's "Paul" books (Drawn and Quarterly, Conundrum). She also translates exhibitions, digital stories and films, most recently Theodor Ushev's The Physics of Sorrow (with Karen Houle, NFB, 2019). A Montrealer, she works from French and German to English.
//////////////////////////////////
Librairie Drawn & Quarterly recognizes that our events and bookstores are located on the unceded territory of the Kanien'kehá:ka. Many of us refer to Montreal as our home, but it is named Tiohtiá:ke. This has always been a gathering place for many First Nations and continues to be home to a diverse population of Indigenous peoples. It is important to think about how each and every one of us has arrived here. We are grateful that creating and sharing stories has been a part of this land for thousands of years and we urge you to seek out a story that is different from your own.
La Petite Drawn and Quarterly Accessibility information:
- Our event space uses StopGap.ca ramps in an effort to encourage accessibility. Both the step at the entrance, followed by a half step and a door have StopGap ramps. The door opens inward and is not automated. Once inside, there are no additional steps.
- It is not a sober space, our events sometimes offer alcohol.
♥️ Please email events@drawnandquarterly.com if you have any accessibility needs we can accommodate (for example, saving you a seat if you have mobility needs) for you to be able to enjoy our events, worry-free, and feel free to contact us for any concerns you may have ♥️