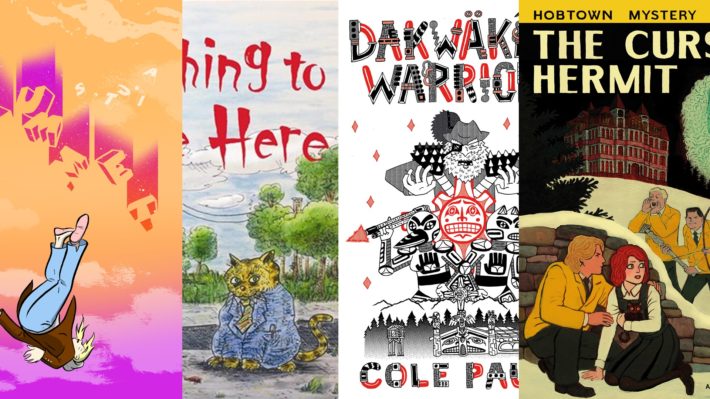 [ENG] Conundrum Press Launch Spectacular!
15 novembre 2019 19:00 - 21:00
La Petite Librairie Drawn & Quarterly
176 Rue Bernard O, Montréal, QC H2T 2K2
Join artists Cole Pauls, Kris Bertin, Alexander Forbes, Sherwin Tjia, and Howard Chackowicz as we celebrate the launch of their newest graphic novels. This Conundrum Press extravaganza will include presentations and a chance to meet and mingle with the artists.
PLUMMET by Sherwin Tjia
Take the plunge into a high-flying and hypnotic blend of heaven, hell, and high water
When Amelia "Mel" Eichenwald wakes up one morning, she finds herself in endless freefall towards an Earth that is no longer there, surrounded by the junk of human existence. From high heels to houses, billions of random items drop alongside her like fallout from an exploded mall.
She soon discovers she's not alone. Others have been similarly plucked out of their lives and dropped off in mid-air. But why? For what purpose? And more importantly—and urgently—what is she going to eat? Where can she safely sleep?
Plummet follows Mel as she attempts to survive, find allies, and negotiating the balance between becoming prey or predator. What makes us human — and what keeps us human —when gravity is all there is? How do you take a stand when there is literally no place to sit? Plummet will propel readers into a new dimension that's part fable, part post-apocalyptic nightmare.
CURSED HERMIT by Kris Bertin and Alexander Forbes
Will our Teen Detectives untangle the mystery of Knotty Pines — before it's too late?
Reeling from the strange and confusing discoveries of their last adventure, the Hobtown Junior Detective Club is looking forward to Christmas break when two of its Teen Detectives —Brennan and Pauline—are made to attend an extra-credit boarding school called Knotty Pines. After attending their first classes, however, they realize they may have stumbled on their weirdest case yet!
It's not just that the Headmaster and the Headmistress are unusually strict, it's that they seem to be controlling the students, transforming them into boneheads and bullies. On the final night of their stay, the boys and girls are paired up to pledge eternal allegiance to the long-dead Lord Hobb—and to each other—in unholy matrimony!
Isolated from their fellow sleuths, our intrepid young investigators need to rely on a cast of colourful characters to lift a curse that has plagued the good people of Hobtown for centuries! Bizarre, funny, frightening, and heartwarming, this latest installment of the Hobtown Mystery Stories brings our teens one step closer to uncovering the haunting truth of their funny little east-coast village.
DAKWAKADA WARRIORS by Cole Pauls
Saving the earth from evil pioneers and cyborg sasquatches
As a young person growing up in Haines Junction YT, artist Cole Pauls performed in a traditional song and dance group called the Dakwäkãda Dancers. During that time, Pauls encountered the ancestral language of Southern Tutchone. Driven by a desire to help revitalize the language, he created Dakwäkãda Warriors, a bilingual comic about two earth protectors saving the world from evil pioneers and cyborg sasquatches.
Pauls' Elders supported him throughout the creation process by offering consultation and translation. The resulting work is a whimsical young adult graphic novel that offers an accessible allegory of colonialism. Dakwäkãda Warriors also includes a behind-the-scenes view into the making of the comic and a full-colour insert featuring character illustrations by guest Indigenous Canadian artists.
NOTHING TO SEE HERE by Howard Chackowicz
is the highly-anticipated continuation of Chackowicz's Howie Action Comix series. In the spirit of Ivan Brunetti, his one-page gags convey narrative devices that take fans to strange and dark places that exist well beyond joke territory.
Born in Toronto, but living in Montreal, SHERWIN TIJA is a writer and illustrator who has made eleven books, including this one. His debut graphic novel, The Hipless Boy was nominated for four Ignatz Awards and an Eisner Award, and his Pick a Plot series won an Expozine Award. For a living, he organizes Slowdance Nights, Crowd Karaoke Singalongs, Strip Spelling Bees and other intimate and odd events.
------------
COLE PAULS is a Tahltan comic artist, illustrator and printmaker hailing from Haines Junction (Yukon Territory) with a BFA in Illustration from Emily Carr University. Residing in Vancouver, Pauls focuses on his two comic series, the first being Pizza Punks: a self contained comic strip about punks eating pizza, the other being Dakwäkãda Warriors. In 2017, Pauls won Broken Pencil Magazine's Best Comic and Best Zine of the Year Award for Dakwäkãda Warriors II.
-----------------
ALEXANDER FORBES is an illustrator living and working in Halifax, Nova Scotia. He is the co-creator and cartoonist of The Case of the Missing Men (2017) and The Cursed Hermit (2019), both published by Conundrum Press.
-----------------------
KRIS BERTIN is a writer from Halifax, NS. His first book of short stories, BAD THINGS HAPPEN won the Writers' Union of Canada's 2017 Danuta Gleed Award and the ReLit Award. Kris's first graphic novel (illustrated by Alexander Forbes) THE CASE OF THE MISSING MEN was nominated for a Doug Wright Award. His second book of short stories, USE YOUR IMAGINATION! was published in 2019.
------------------------
HOWARD CHACKOWICZ is a Harvey-nominated Montreal cartoonist who has also taught comics and cartooning for over 20 years. He is a drummer for the bands The American Devices and Nutsak. Howard is also known for his work as a writer and performer on CBC Radio's Wiretap. His newest book, Nothing to See Here, will be published in Fal 2019 by Conundrum Press.
//////////////////////////
Librairie Drawn & Quarterly recognizes that our events and bookstores are located on the unceded territory of the Kanien'kehá:ka. Many of us refer to Montreal as our home, but it is named Tiohtiá:ke. This has always been a gathering place for many First Nations and continues to be home to a diverse population of Indigenous peoples. It is important to think about how each and every one of us has arrived here. We are grateful that creating and sharing stories has been a part of this land for thousands of years and we urge you to seek out a story that is different from your own.
La Petite Drawn and Quarterly Accessibility information:
- Our event space uses StopGap.ca ramps in an effort to encourage accessibility. Both the step at the entrance, followed by a half step and a door have StopGap ramps. The door opens inward and is not automated. Once inside, there are no additional steps.
- It is not a sober space, our events sometimes offer alcohol.
♥️ Please email events@drawnandquarterly.com if you have any accessibility needs we can accommodate (for example, saving you a seat if you have mobility needs) for you to be able to enjoy our events, worry-free, and feel free to contact us for any concerns you may have ♥️